Dear aspirants, following are the links of various articles taken from various newspapers. Click the link to read further. To get notification, follow the blog. Thank you
1.  Swachh rankings are out, Indore gets cleanest city tag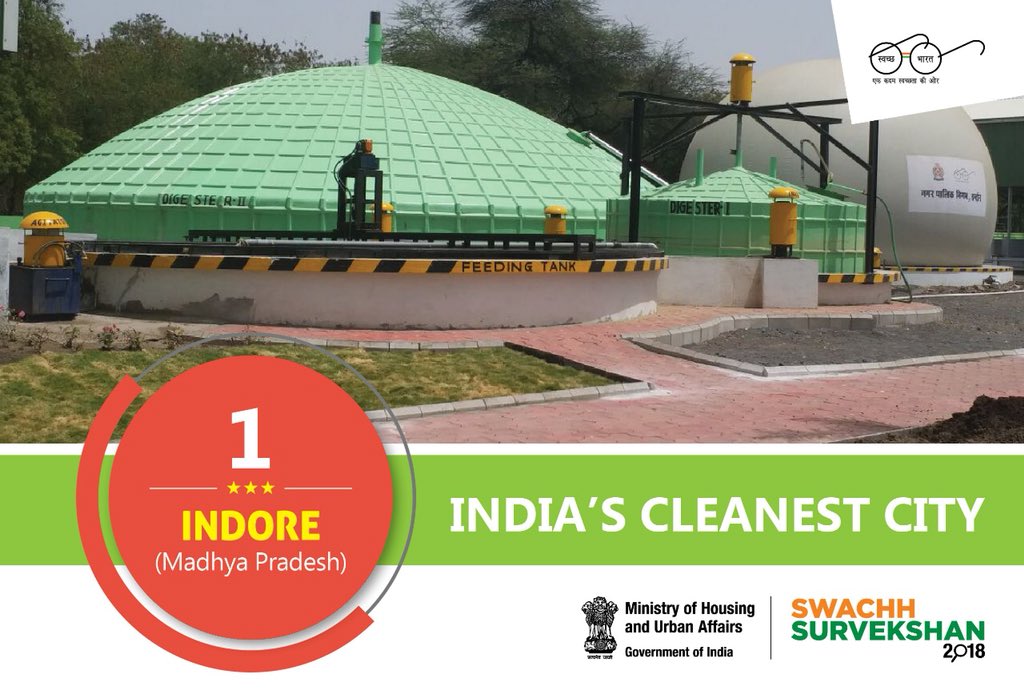 Jharkhand has emerged as the best-performing State in terms of cleanliness, while Indore in Madhya Pradesh was adjudged the cleanest city in the country, according to the government swachhta survey released on Wednesday.
Maharashtra stood second behind Jharkhand, while Chhattisgarh was at the third position in the category of 'best-performing States' in the 'Swachh Survekshan 2018' released by Housing and Urban Affairs Minister Hardeep Singh Puri here.
As far as cities are concerned, table-topper Indore is followed by Madhya Pradesh capital Bhopal, while Union Territory of Chandigarh stands at the third place in the national-level category.
Indore and Bhopal have retained their respective positions from the last year survey. But this year, the survey has covered 4,203 cities while in 2017 only 434 cities were surveyed.
State ranking was introduced in this year's survey, which was conducted between January 4 and March 10. In 2016, the survey was conducted in 73 cities having a population of 10 lakh or more and also the capital cities.
The New Delhi Municipal Council (NDMC) got the tag of India's 'cleanest small city' (urban local body) with population between 1 lakh and 3 lakh in the 2018 survey.
In the 'cantonment' category, the Delhi Cantonment has emerged as the cleanest, followed by Almora, Ranikhet and Nainital (all three in Uttarakhand).
Uttar Pradesh's Ghaziabad was adjudged the "fastest mover big city" in this survey.
Mysuru has been ranked the cleanest medium-sized city in the country. Mysuru has been ranked the cleanest among cities with a population of between 3 lakh and one million. Mangaluru has been ranked the best city in solid waste management.
Why is Indore so clean? How can that be implemented in other cities?
#1] Door-to-door garbage collection vans
#2] Swatch Bharat Songs
#3] Massive awareness drive for cleanliness
#4] Toilets and "dabba gangs" – to counter open defecation
To stop the problem of open defecation, the civic body started a campaign using school children (the "dabba gang") who would start beating metal boxes whenever they see anyone defecating in the open.
This campaign was called the "roko and toko" campaign ("stop" and "object")
#5] Vegetable waste disposal to organic manure
Compost pits were built near one of the largest vegetable markets in the city to collect and use the vegetable waste generated in tonnes from there.
#6] Dustbins – tons and tons of them
Watch this :–
2. Cabinet approves new biofuels policy
The policy expands the scope of raw material for ethanol production by allowing use of sugarcane juice, sugar-containing materials like sugar beet, sweet sorghum, starch-containing materials like corn, cassava, damaged food grains like wheat, broken rice, rotten potatoes [that are] unfit for human consumption for ethanol production.
Farmers are at a risk of not getting appropriate price for their produce during the surplus production phase.
Taking this into account, the policy allows use of surplus food grains for production of ethanol for blending with petrol with the approval of National Biofuel Coordination Committee.
The policy also provides for a viability gap funding scheme of Rupees 5,000 crore in six years for second generation (more advanced) ethanol bio-refineries in addition to tax incentives and a higher purchase price as compared to first generation biofuels.
One crore litres of E10 [petrol with 9-10% ethanol blended in it] save 28 crore rupees of forex at current rates. The ethanol supply year 2017-18 is likely to see a supply of around 150 crore litres of ethanol which will result in savings of over Rupees 4,000 crore of forex.
The release added that one crore litres of E10 reduce carbon dioxide emissions by about 20,000 tonnes.
For the ethanol supply year 2017-18, there will be lesser emissions of CO2 to the tune of 30 lakh tonnes. By reducing crop burning and conversion of agricultural residues/wastes to biofuels there will be further reduction in greenhouse gas emissions.
| Type of biofuel | 1st generation | 2nd generation |
| --- | --- | --- |
| biodiesel | edible crops, e.g. | nonedible biomass |
| | soybean, sunflower, palm oil | waste cooking oil |
| bioethanol | edible crops, e.g. | nonedible biomass (cellulosic ethanol) |
| | sugar cane, maize, wheat | wood, straw, wastes |
| biobutanol | edible crops, e.g. | nonedible crops |
| | sugar cane, maize, wheat | |
| biogas | edible crops, e.g. | nonedible biomass |
| | maize, grass, sugar beet | manure, slurry, food waste, sewage |
| biosyngas | (coal) | municipal waste, waste wood, |
| (= ) | | dry crop residues |
3. Govt. may soon adopt 'shell' firm definition
A government committee has drafted the definition of 'shell-company' to plug a loophole in existing laws that empower enforcement agencies to initiate legal proceedings against such entities.
The issue had come up after a large number of entities, against which action had been taken, contested their classification as shell companies.
The committee also examined the definition provided by the Organisation for Economic Co-operation and Development (OECD), which has defined a 'shell company' as "a company that is formally registered, incorporated, or otherwise legally organised in an economy but which does not conduct any operations in that economy other than in a pass-through capacity."
The authorities encountered some issues with the OECD definition, and hence explored other definitions.
They have arrived at one such definition, which is being tested on the basis of the data on such entities that is available with the Ministry of Corporate Affairs.
After determining that the definition is wide enough to cover all aspects of such entities, the Centre may soon adopt it for inclusion and implementation for legal purposes.
What is a shell company?
Just like a shell, which has a thick outer covering, while the inside is hollow, Shell Company is a corporate entity without active business operations or significant assets. It is interesting to note that that shell corporations are not illegal. They are deliberate financial arrangements created to either avoid taxes or even promote startups.
Most of the shell companies are registered in tax havens, where there is nil or low tax.
Legally, Securities Act enacted in the USA has defined shell company as follows.
"Securities Act Rule 405 and Exchange Act Rule 12b-2 define a Shell Company as a company, other than an asset-backed issuer, with no or nominal operations; and either:
no or nominal assets;
assets consisting of cash and cash equivalents; or
assets consisting of any amount of cash and cash equivalents and nominal other assets."
In India, Shell companies haven't been defined in law.
4. Public is absent in India's environmental policymaking
In the last two months, the government has publicised three documents that can shape the environment and forest governance in India. Interested citizens have been given a few days to read and respond to a draft forest policy, amendments to the 2011 Coastal Regulation Zone (CRZ) notification and the draft National Clean Air Programme (NCAP) put out by the Environment Ministry.
5. Food subsidies and WTO: Rich of the US to challenge India
Last week, the United States (US) submitted a document in the World Trading Organization (WTO) questioning the compatibility of India's agricultural subsidies with the relevant provisions of the Agreement on Agriculture (AoA).
Agreement on Agriculture:
The World Trade Organization (WTO) is an international trade institution. The WTO superseded and replaced the GATT. The GATT was a provisional, multilateral agreement governing international trade from 1947 until January 1, 1995. The creation of the WTO was negotiated in the final GATT round, the Uruguay Round. The WTO inherited a number of core principles from the GATT. These principles include:
• Non–discrimination, which in practice means two things. The first principle is MFN–most favoured nation treatment. Any trade concession a nation offers to one member, it must offer to all. The second principle is national treatment. This means that imported products must be treated the same as domestic goods.
• Reciprocity of Trade Concessions.
• Trade Liberalization.
• Transparency and predictability in import and export rules and regulations.
• Favourable treatment to less developed countries.
Although built on the GATT legacy, the Uruguay Round and WTO added many new issues and features.
Agreement on Agriculture is one such new provision added in WTO.
The WTO\'s Agreement on Agriculture (AoA) was negotiated in the 1986-94. This multilateral trade negotiations during the Uruguay Round of the General Agreement on Tariffs and Trade (GATT and marked a significant first step towards bringing agricultural subsidies (domestic support in the language of the AoA) under international disciplines. Specific commitments set out in the AoA were implemented over a 6-year period (10 years for developing countries), starting in 1995.
Objectives
• It is to establish a fair, transparent and market oriented agricultural trading system, to strengthen more operationally effective GATT disciplines.
• The agreement does allow governments to support their rural economies, but preferably through policies that cause less distortion to trade.
• It also allows some flexibility in the way commitments are implemented. Developing countries do not have to cut their subsidies or lower their tariffs as much as developed countries, and they are given extra time to complete their obligations. Least-developed countries don't have to do this at all. Special provisions deal with the interests of countries that rely on imports for their food supplies, and the concerns of least-developed economies.
Main Three Pillars of AOA:
The Agreement on Agriculture has three pillars
A. Domestic Support:
It includes the classification of agricultural subsidies into 'boxes' depending on their effects on production and trade-
• Amber Box:  Provides Aid to avoided and reduced, Measures to support prices, subsidies most directly linked to production level and quantities meanwhile, all domestic support considered to distort production and trade (with some exception like except that placed in the Green and Blue Box.  It subject to limits expressed in terms of a "Total Aggregate Measurement of Support" (Total AMS) which combines all supports for specified products, together with supports that are not for specific products, into one single figure.
For example- When European Union buys up cereals and dairy products at guaranteed prices from its producers; (Like Indian Minimum Support Prices but AOA didn't object to Indian MSP programmes) it is amber-box aid.
• Blue Box: Production limiting programmes that still distort trade. Subsidy is permitted under the blur box, cover certain direct payments to farmers where the farmers are required to limit production called' Blue Box' measures, comprises government assistance programmes to encourage agricultural and rural development in developing countries. Any support that would normally be in the amber box is placed in the blue box if the support also requires farmers to limit production.
For e.g. Blue box contains aid to livestock or land not linked to prices but to fixed figures for surface and yield.
• Green Box:  It follows under the Permitted subsidies, Minimal Distortion, and typically includes those to research and development (R&D), environmental protection and animal welfare. Blue box subsidies are also permitted, but on the condition that they must not lead to increased production as amount spent on government services. Green subsidy allow in terms of support example: MSP or subsidies. It includes the payments made directly to farmers that off limits stimulate production, such as certain forms of direct income support, assistance to help farmers to restructure the agriculture, direct payment under environmental and regional assistance programmes.
• Market Access:
Market access refers to the reduction of tariff (or non-tariff) barriers to trade by WTO members. The 1995 Agreement on Agriculture required tariff reductions of:
– 36% average reduction by developed countries, with a minimum per-tariff line reduction of 15% over six years.
– 24% average reduction by developing countries with a minimum per-tariff line reduction of 10% over ten years.
Least developed countries (LDCs) were exempt from tariff reductions, but they either had to convert non-tariff barriers to tariffs—a process called tariffication or "bind" their tariffs, creating a ceiling that could not be increased in future.
• Export Subsidies:
The Agriculture Agreement prohibits export subsidies on agricultural products unless the subsidies are specified in a member's lists of commitments. Where they are listed, the agreement requires WTO members to cut both the amount of money they spend on export subsidies and the quantities of exports that receive subsidies. Taking averages for 1986-90 as the base level, developed countries agreed to cut the value of export subsidies by 36% over the six years starting in 1995 (24% over 10 years for developing countries). Developed countries also agreed to reduce the quantities of subsidized exports by 21% over the six years (14% over 10 years for developing countries). Least-developed countries do not need to make any cuts.
Structural Mechanism for safeguard
A Special Safeguard Mechanism (SSM) empowers developing countries to levy additional safeguard duties in the event of an abnormal surge in imports of the entry of unusually cheap imports.
Matter of Concern
Subsidies deserve to be placed in the green or blue box, rather than the amber box, is sometimes a matter of contention at the WTO. Within the current negotiations, many developing country members have expressed concern over "box-shifting": the movement of subsidies from the amber to the blue box without significant changes in the nature of the subsidy. The G-20, a group of 20 developing country WTO members, has pushed for rules that would help ensure that amber box subsidies are completely transformed before gaining access to the blue box.
5. Rupee rout: on the Indian currency's slide
India's macroeconomic threats lie exposed as it grapples with the rupee's slide. The currency sunk to a closing low of 68.07 against the U.S. dollar on Tuesday, its lowest level in 16 months, before recovering slightly the next day.
The rupee, already one of the worst performing Asian currencies, has now weakened 6.2% in 2018. The rise in crude oil prices through this year, amidst rising geopolitical tensions in West Asia and dwindling global supply, have obviously hurt the rupee and the trade balance.
Meanwhile, despite a depreciating currency, India's merchandise exports are stumbling instead of gaining from the opportunity.
There is a sharp decline in exports from employment-intensive sectors such as readymade garments and gems and jewellery, according to official data.
 The trade deficit has consequently widened to $13.7 billion in April, compared to $13.25 billion in the same month in 2017.
The value of oil and petroleum product imports increased by 41.5% from last year to hit $10.4 billion. U.S. sanctions following Washington's withdrawal from the Iran nuclear deal and a June 22 meeting of OPEC should drive oil price trends hereon.
Oil prices apart, the tightening of U.S. monetary policy has almost always spelled trouble for emerging market economies hooked to Western capital inflows. This time it is no different; capital outflows are scuppering the currencies of many emerging market economies.
Why is the rupee in a free fall?
As the U.S. Federal Reserve has come to adopt a more hawkish stance, investors in search of higher risk-adjusted yields have started to pull money out of emerging markets.
Yields on emerging market bonds have risen as investors sold them off aggressively. The yield on the 10-year bond issued by the Indian government has risen to more than 7.8%, from 7.1% in early April.
Foreign portfolio investors (FPIs) pulled out Rs.15,500 crore from India's capital markets in April, which is the highest monthly outflow since December 2016.
Not surprisingly, about two-thirds of the outflow was attributed to the bond market.
The current headwinds from the reversal of capital flows were only to be expected. India is better placed than countries such as Argentina or Turkey.
But that's no reason to be complacent as external account risks can get out of hand very quickly.
 A hike in the RBI's benchmark interest rates could stem the capital exodus, but with core inflation picking up and the government keen on a rate cut as a growth catalyst, the RBI has an unenviable dilemma on its hands.
Policymakers, blessed with relatively benign external economic conditions after the taper tantrum of 2013, will have to find means to spur exports — whether by facilitating swifter GST refunds or taking on tariff and non-tariff barriers from the developed world. Efforts to diversify India's energy basket also need greater stress.
Antibiotics in poultry harm non-meat eaters as well. India should follow the example of EU, US and China in regulating the industry.
What is an antibiotic?
An antibiotic is a substance used to kill bacteria.
Say for instance, our guts are full of bacteria. Some are good, and some are bad. Once someone takes an antibiotic, it clears the gut of most bacteria, including the good kind. But some resistant bacteria remain and develop resistance to the antibiotic over time.
Antibiotics kill bacteria, not viruses, which means an antibiotic prescription for a cold or the flu isn't going to do any good.
Antibiotic resistance
Antibiotic resistance is the ability of bacteria to resist the effects of an antibiotic.
Antibiotic resistance occurs when bacteria change in a way that reduces the effectiveness of drugs, chemicals, or other agents designed to cure or prevent infections.
The bacteria survive and continue to multiply, causing more harm.
Antibiotic resistance leads to higher medical costs, prolonged hospital stays, and increased mortality.
Antibiotic resistance is one of the biggest threats to global health, food security, and development today.
Antibiotic resistance can affect anyone, of any age, in any country.
Antibiotic resistance occurs naturally, but misuse of antibiotics in humans and animals is accelerating the process.
A growing number of infections – such as pneumonia, tuberculosis, and gonorrhoea – are becoming harder to treat as the antibiotics used to treat them become less effective.
Antibiotic resistance leads to longer hospital stays, higher medical costs and increased mortality.
Scope of the Problem:
Antibiotic resistance is rising to dangerously high levels in all parts of the world.
New resistance mechanisms are emerging and spreading globally, threatening our ability to treat common infectious diseases.
A growing list of infections – such as pneumonia, tuberculosis, blood poisoning and gonorrhoea – are becoming harder, and sometimes impossible, to treat as antibiotics become less effective.
Antibiotics can be bought for human or animal use without a prescription, the emergence and spread of resistance is made worse. Similarly, in countries without standard treatment guidelines, antibiotics are often over-prescribed by health workers and veterinarians and over-used by the public.
Without urgent action, we are heading for a post-antibiotic era, in which common infections and minor injuries can once again kill.
Prevention and control of the problem:
Only use antibiotics when prescribed by a certified health professional.
Never demand antibiotics if your doctor says you don't need them.
Always follow your health worker's advice when using antibiotics.
Ensure a robust national action plan to tackle antibiotic resistance is in place.
Improve surveillance of antibiotic-resistant infections.
Strengthen policies, programmes, and implementation of infection prevention and control measures.
Prevent infections by ensuring your hands, instruments, and environment is clean.
Only prescribe and dispense antibiotics when they are needed, according to current guidelines.
Report antibiotic-resistant infections to surveillance teams.
Talk to your patients about how to take antibiotics correctly, antibiotic resistance and the dangers of misuse.
Invest in research and development of new antibiotics, vaccines, diagnostics and other tools.
Only give antibiotics to animals under veterinary supervision.
Not use antibiotics for growth promotion or to prevent diseases.
Vaccinate animals to reduce the need for antibiotics and use alternatives to antibiotics when available.
Thank you aspirants. To help us, Like and share us on your social media page and follow us.