Dear aspirants, following are the links of various articles taken from various newspapers. Click the link to read further. To get notification, follow the blog. Thank you
The case of Candolim beach
In Candolim beach plastic and glass bottles are ubiquitous. This shows that tourists and beachgoers lack basic civic sense.
Management – Litter on the beach also shows that there is no responsible waste management system. One reason why people abandon their garbage with such impunity may be the paucity of waste receptacles along the beach.
Stakeholder – There is also abdication of responsibility by the companies, distributors, restaurants and shopkeepers who manufacture, market and sell these products.
Government -Garbage on the beach also shows a lack of attention by authorities towards this issue though it concerns health, hygiene and protecting natural spaces — all of which are key to attracting tourists.
Rule of law – There are no police or other such representatives on beaches who are empowered to enforce the law and hand out fines. Just as justice needs to be seen to be done, respect for the law arises from its implementation and the visible presence of an agency dedicated to deterrence and application of the law.
Attitudinal change – Behaviour change communication (BCC) could be the key to changing attitudes and behaviour patterns. India has seen success with this method regarding nutrition for expectant mothers. However, BCC on tourist-focussed waste management is non-existent in Goa. There is no mention of fines or the responsibilities of tourists. A critical element of BCC is having requisite infrastructure. In this case it would mean installation of waste receptacles, proper collection and management, and proper policing.
Technology – While technology such as clean composting can help, it is an insufficient response to an attitudinal issue.
Conclusion
The ability to add to the litter and enjoy a dirty beach is something unique to this part of the world.
Lasting change may only come when people realise that their enjoyment of the beach is inextricably linked to keeping that beautiful environment garbage-free.
Cleanliness will only follow an attitudinal change.
2. U.P. & M.P. likely to start cash transfer for food subsidies
Uttar Pradesh and Madhya Pradesh are likely to be the next States to start implementing cash transfer for food subsidies in certain areas.
But Food Minister Ram Vilas Paswan emphasised that banking systems and infrastructure must be in place before any such scheme can begin.
About 2.4 lakh households in Puducherry, Chandigarh and the urban areas of Dadra and Nagar Haveli currently receive a direct transfer of money — amounting to a total of ₹12 crore per month — instead of food grains through the local ration shop.
Potential hurdles
Talking about the lessons learnt from the experience in these three relatively urban areas, Mr. Paswan said the biggest potential hurdles were in the banking system and in last mile infrastructure.
He pointed out that when a beneficiary is forced to spend money and lose working hours due to repeated trips to a bank branch as far as 20 km away, which may be closed or may not have received the money in time, then he or she would not be in favour of the cash transfer.
Pre-requisites
States such as M.P. and U.P., which have also expressed interest in implementing the scheme in certain districts, must meet several pre-requisites, including complete digitisation of the beneficiary database, seeding with account details, Aadhaar and mobile numbers, extensive awareness campaigns and post-distribution monitoring and grievance redressal mechanisms.
The requirements, timelines and best practices have now been laid out in a handbook prepared in collaboration with the World Food Programme (WFP), which acted as advisers to the government for the pilot scheme in the three union territories.
3. Achieving universal health coverage in India
Universal health coverage that is designed on a revised definition of health will lead to a better understanding, and attainment, of holistic well-being.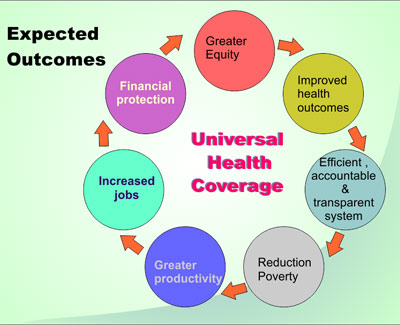 Strive for Health for All
The World Health Organization (WHO) Health Assembly set the target of "Health for All" in May 1977.
These were to be achieved by the end of 2000. Subsequently, in 2000, the Millennium Development Goals were formulated by the UN with the target for achievement set for 2015.
This was followed by the Sustainable Development Goals (SDG), set by the UN in 2016, to be achieved by 2030 by all member countries.
Throughout this trajectory, the essence of "health for all" has been preserved.
Reviving the Definition of Health: Including determinants based on Climate Change
The SDGs advocate universal health coverage for which the definition of health needs to be understood from a holistic perspective.
This would entail revisiting the 70-year-old definition of health as described by the World Health Organization—"a state of complete physical, mental, social well-being and not merely absence of disease or infirmity"—and considering other determinants as well.
A determinant-based definition of health and well-being will not only help in better perception of disease, but also provide a better tool in deciding the right priority for public health interventions.
The ongoing 71st World Health Assembly in Geneva deliberated on the importance of environmental, climate and other determinants of health.
Other Factors of Health Hazards
Besides many others, one important factor that needs to be considered while comparing the magnitude of different diseases is the level of parasitemia or viremia in the general population, incubation period and presence of pathogens in the non-human host in close environment, etc.
Diseases of public health importance, such as kala azar, lymphatic filariasis, leprosy, etc., can manifest in an apparently healthy population in tropical and sub-tropical climatic regions and can re-emerge if not eliminated.
While there has been tremendous progress in addressing neglected tropical diseases in many countries, including India, due to concerted efforts of the government, elimination efforts are still to be universalized across many districts.
These diseases shouldn't be neglected any more, even though the magnitude of reported cases has reduced over the years.
Redefining Health
Well-being, in general, is associated with self-preserved health, awareness and practice of good health behaviour, social connectedness and productivity.
Viewed through this holistic lens, the revised definition of health should include all such determinants and be redefined as "a state of complete physical, mental, social and environmental well-being, including absence of determinants of disease in the body or in its proximity that can cause harm by use or by contact with the body".
The Way Forward
It is high time for UN bodies/World Health Assembly to acknowledge the need for redefining health in light of the SDGs.
Universal health coverage should be designed based on the revised definition of health. That will lead to a better understanding, and attainment, of holistic health and well-being.
This will help in directing focused priority and mobilization of resources in the right direction.
In addition, a national framework for universal health coverage needs to be developed by the member countries.
This would involve inter-sectoral collaborations at the community level with local health teams, the private sector, non-government organizations and community-based organizations to strengthen primary health and support secondary and tertiary infrastructure.
This would not also empower people to protect themselves from illness and encourage treatment-seeking behaviour for which people's awareness needs to be built up through simple community-level ideas for health promotion, prevention and self-protection as essential part of primary healthcare.
Joint participation with health teams by trained volunteers in uniform, including those from National Cadet Corps (NCC), National Scout Services (NSS), nursing schools, etc., can provide a thrust for addressing social, and environmental determinants and can bring about positive change in personal hygiene, healthy behaviour and cleanliness.
4. Intra-State e-waybills to take effect in final 8 States
The e-waybill system for intra-State movement of goods will be implemented for the final eight States over the first three days of June, the Centre has announced.
The new system would be implemented for intra-State transport in Chhattisgarh, Goa, Jammu & Kashmir, Mizoram, Odisha, Punjab, Tamil Nadu and West Bengal.
The e-waybill system is functioning successfully and as of now, more than 6.3 crore e-waybills have been generated, including more than two crore e-waybills for the intra-State movement of goods.
The e-waybill system for intra-State movement of goods will be implemented throughout the country latest by June 3, 2018.
It has now been two months since the e-waybill system was implemented and the same is working smoothly and without any glitches.
On an average more than 12 lakh e-waybills are being generated every day.
The e-waybill system
It is an electronic documentation detailing the movement of goods and has to be mandatorily carried by transporters for any consignment exceeding Rs50,000 in value.
It can be generated from the GSTN set up for the e-way bill system by the transporter before the movement of goods begins.
The e-way bill's validity varies depending on the distance that the goods have to travel. Typically, the bill's validity is one day for every 100km of movement of goods.
Exceptions
Some goods that are out of the e-way bill's ambit include perishable items such as meat, milk and milk products and fruits and vegetables. Other items that don't need an e-way bill are gold and silver jewellery, cooking gas cylinders, raw silk, wool and handlooms.
Significance
The e-way bill is a key anti-tax evasion measure and is a crucial part of the GST architecture.
Tax authorities believe its implementation will dissuade tax evaders from underreporting transactions.
It will also check instances where the entire transaction is not recorded due to connivance between the seller and buyer.
It will provide a boost to GST revenues and the government is hoping that this anti-evasion measure will bring buoyancy.
Concerns
The industry is worried that the technology system may not be prepared to handle the huge e-way bill volume and that this may cause a disruption to trade.
When the e-way bill system was initially rolled out, technological glitches caused long delays in generation of GST e-way bills. This led to trade coming to a standstill, forcing the government to defer its implementation.
Another worry for industry is the potential scope for harassment by tax authorities. Taxmen have powers to stop trucks and check e-way bills and transporters fear this may lead to rent-seeking.
Way out
To avoid technological glitches, the GSTN and the National Informatics Centre have ramped up the infrastructure.
The system can now handle 75 lakh e-way bills daily, compared with 26 lakhs earlier.
To prevent harassment of taxpayers, e-way bill rules specify that goods will be inspected only once during the journey except in cases where specific information on tax evasion is received.
Further, in case a vehicle is detained for more than 30 minutes, the transporter can report it on the portal.
5. Mother of all lizards found in Italian Alps
New revelation
This finding dragged the group back in time by 75 million years and means that lizards inhabited the planet since at least 240 million years ago.
That, in turn, suggested that squamates had already split from other ancient reptiles before the Permian/Triassic mass extinction some 252 million years ago, and survived it.
Up to 95% of marine- and 75% of terrestrial life on earth was lost.
Megachirella, discovered some 20 years ago buried in compacted sand and clay layers in the Dolomites mountain range in northeast Italy, was initially misclassified as a close lizard relative.
The team found a tiny bone in Megachirella's lower jaw that is unique to the squamate family.
The Permian–Triassic extinction event
The Permian–Triassicextinction event, colloquially known as the Great Dying, the End-Permian Extinction or the Great Permian Extinction, occurred about 252 million years ago, forming the boundary between the Permian and Triassic geologic periods, as well as the Palaeozoic and Mesozoic eras.
It is the Earth's most severe known extinction event, with up to 96% of all marine species and 70% of terrestrial vertebrate species becoming extinct.
It is the only known mass extinction of insects. Some 57% of all families and 83% of all genera became extinct. Because so much biodiversity was lost, the recovery of life on Earth took significantly longer than after any other extinction event, possibly up to 10 million years.
Thank you aspirants. To help us, Like and share us on your social media page and follow us.