Dear aspirants, following are the links of various articles taken from various newspapers. Click the link to read further. To get notification, follow the blog. Thank you
1. Demonetisation failed to make India a 'less cash' society
The ratio of currency in circulation as share of broad money is back at pre-demonetisation levels, according to Reserve Bank of India data
\
Look at the chart
The Chart plots currency in circulation (CIC) as a share of broad money (M3) —henceforth, CIC/M3. All data are sourced from the Reserve Bank of India (RBI).
The demonetisation shock in November 2016 saw CIC/M3 plunge to as low as about 0.08 within a month, not surprising when fully 86% of the currency stock was invalidated.
It is not hard to see the trend: CIC/M3 is clearly converging back to its pre-demonetisation level—indeed, it is just about already back to that earlier level.
The Way Forward
It should be added that the failure of demonetisation to make India a less-cash society does not necessarily imply a complete failure of the larger digitization drive.
Data suggest that some components of digital payments are up after November 2016, although it is not clear if this is merely a continuation of pre-demonetisation trends or an effect wrought by demonetisation.
Nor can one conclude, on the basis of the analysis, that demonetisation has failed, although such data as shown have question remain open to contestation and interpretation.
Measures of Money Supply
As we move from M1 to M4, Liquidity of the money goes on decreasing
Reserve Money (M0): Currency in Circulation + Bankers deposit with RBI + Other deposits with RBI
Narrow Money (M1): Currency with Public + Demand Deposits with banking System + Other deposits with RBI
M2: M1 + Savings Deposit with Post Office
Broad Money (M3): M1 + Time Deposits with Banking System
M4 : M3 + total post office deposits* (Excluding National Savings Certificate)
2. Time to shift focus from land to water productivity in farming, says NABARD
The report calls for a shift in policy focus from land productivity to an efficiency of water use
Indian agriculture needs to stop being "obsessed" with the land productivity and instead start worrying about water productivity, says a report released by the NABARD this week based on study of 10 states.
Titled Water Productivity Mapping of Major Indian Crops, the report is part of a research project with ICRIER, mapping a water atlas for ten major crops — rice, wheat, maize, red gram or tur, chickpea or chana, sugarcane, cotton, groundnut, rapeseed-mustard and potato.
Given that Indian agriculture uses almost 80% of all the country's water resources, which are increasingly under stress, changing the objective of agriculture development to increasing productivity per unit of water, especially irrigation water, is crucial, says the report.
Observations
Most differences between land and water productivity are seen in rice and sugarcane cultivation, the report says.
Punjab reports the highest land productivity for rice, producing four tonnes per hectare. However, it only produces 0.22 kg of rice for every meter cube of irrigation water.
Jharkhand and Chhattisgarh, on the other hand, produce 0.75 and 0.68 kg for the same amount of water.
However, low irrigation coverage results in low land productivity in these States. Jharkhand has only 3% of its land under irrigation.
For sugarcane, another water-guzzling crop, Tamil Nadu reports the highest land productivity, producing 105 tonnes per hectare. Karnataka, Maharashtra and Andhra Pradesh also have high rates of land productivity.
In fact, an average of 40 rounds of irrigation are needed in Tamil Nadu. In the Gangetic Plain States of Bihar and Uttar Pradesh, on the other hand, need five and eight rounds of irrigation respectively.
Key Recommendations
The report recommends that cropping patterns be re-aligned to water availability, using both demand and supply-side interventions.
With water and power subsidies skewing cropping patterns, it also recommends reform in these areas, with a shift from the price policy approach of heavily subsidizing inputs to an income policy approach of directly giving money farmers on per hectare basis.
Prices will then be determined by market forces.
3. India's proposed Assumption Island deal drifts
India's plan to build a military base in Seychelles now stands CANCELLED
The deal was to include a 20-year access to the base, as well as permission to station some military personnel on the ground with facilities on the island funded by India, owned by Seychelles and jointly managed by both sides.
The deal to build a military base at Assumption Islands was struck in principle in 2015 during PM Modi's visit to Seychelles
Another Security setback after the Maldives

The decision by the Seychelles President to drop the deal in the face of protests over a perceived loss of sovereignty is a blow to the government's "SAGAR" (Security and Growth for All in the Region) programme.
It also comes amid India's troubles with another IOR country, the Maldives, where the government has demanded that India withdraw two helicopters, pilots and personnel from its atolls that had been sent there to help with maritime patrols.
Attempts futile
In an attempt to engage with the Opposition in the Seychelles that had led protests against the agreement, India had raised the issue with Leader of the Opposition of Seychelles.
Naval officials pointed out that India's defense maritime cooperation with Seychelles is long-standing and some of the upgrade work on Assumption Island was already underway.
India has resurfaced the old airstrip on the island as part of the infrastructure development project worth over $500 million.
The cancellation of the agreement in a strategically important island could have far-reaching implications.
SAGAR Programme (Security and Growth for All in the Region)
SAGAR is a term coined by PM Modi in 2015 during his Mauritius visit with a focus on blue economy.
It is a maritime initiative which gives priority to Indian Ocean region for ensuring peace, stability and prosperity of India in Indian Ocean region.
The goal is to seek a climate of trust and transparency; respect for international maritime rules and norms by all countries; sensitivity to each other`s interests; peaceful resolution of maritime issues; and increase in maritime cooperation.
It is in line with the principles of Indian Ocean Rim Association.
IORA (Indian Ocean Rim Association)
Established in 1997 in Ebene Cyber City, Mauritius
First established as Indian Ocean Rim Initiative in Mauritius on March 1995 and formally launched in 1997 by the conclusion of a multilateral treaty known as the Charter of the Indian Ocean Rim Association for Regional Cooperation.
It is based on the principles of Open Regionalism for strengthening Economic Cooperation particularly on Trade Facilitation and Investment, Promotion as well as Social Development of the region.
4. Panel identifies 6,000 Mhz spectrum for 5G services
5G in India
The 5G committee of the Telecom Ministry has said that about 6,000 Mhz of spectrum can be made available without delay for the next generation mobile service.
The expert panel's recommendation, if accepted, can be India's largest-ever spectrum allocation for a service
The Department of Telecom (DoT) is taking a strong initiative to make spectrum available for the new service.
Eleven bands
At present, mobile phone signals in the country are transmitted in 800 Mhz to 2,600 Mhz bands.
Now, the panel has spotted spectrum for 5G service across 11 bands of which four bands — premium 700 Mhz band, 3.5 gigahertz (GHz), 24 GHz and 28 GHz band — can be made immediately available for the service.
The panel estimates that 5,250 megahertz of the spectrum can be made available for 5G services in higher frequency bands
5. The G-7 is dead, long live the G-7?
It is entirely possible that an entirely new G-7 comprising Australia, Brazil, Canada, European Union, India, Japan and South Korea could emerge.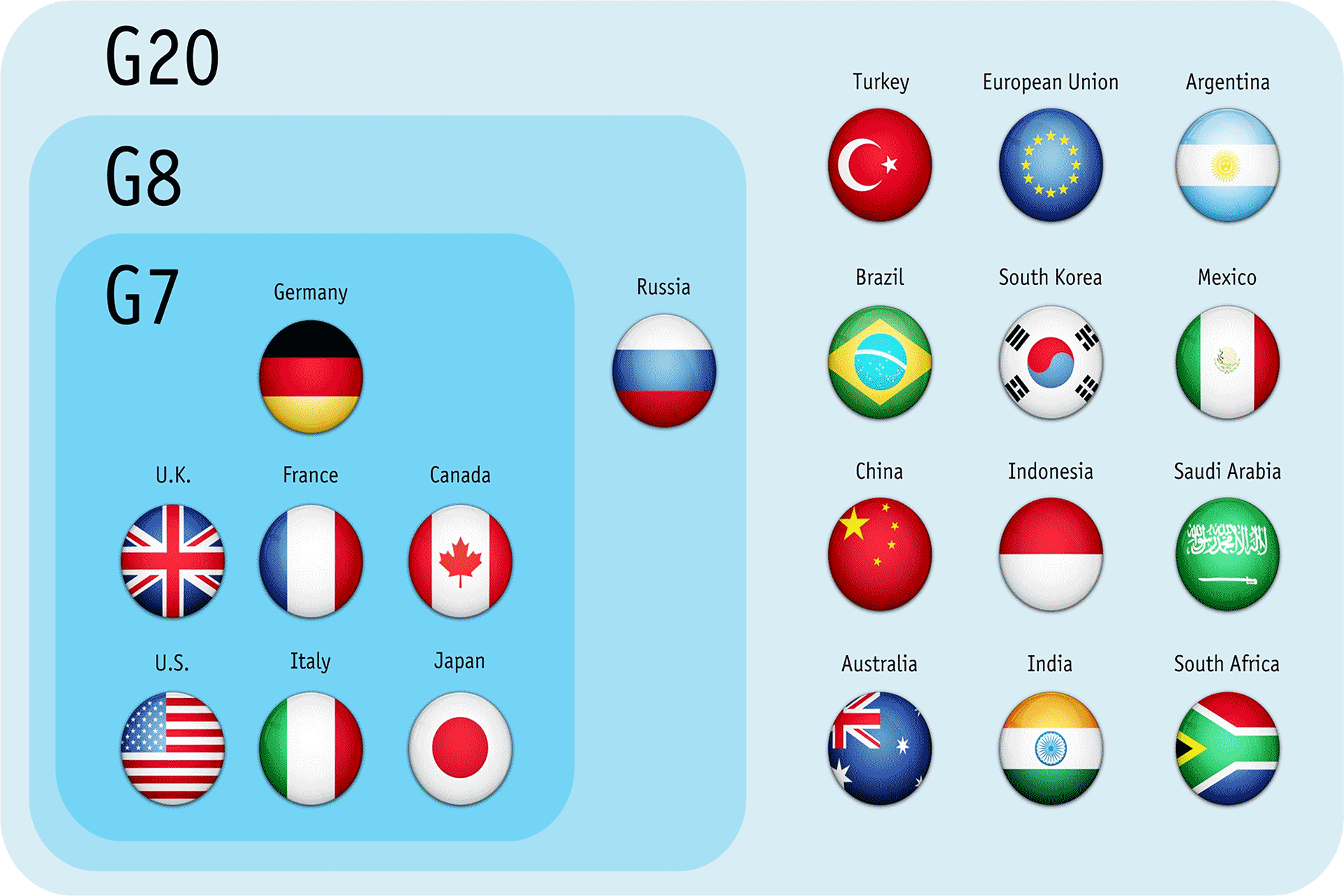 Thank you aspirants. To help us, Like and share us on your social media page and follow us.