The food processing industry in India is increasingly seen as a potential source for driving the rural economy as it brings about synergy between the consumer, industry and the farmer. However, food processing activity is still at a nascent stagein India with low penetration.
Importance of Food Processing Industry
It holds the potential of reducing enormous wastage of agricultural produce in the absence of processing technologies and cold chain facility
It is labour-intensive industry, which has the potential to employ 13 million people directly and 35 million people indirectly
This will also lead to increase in farm income, generate employment opportunities, foster forward and backward linkage effects, contribute to exports and integrate Indian economy with the rest of world
FPI contributes around 9% of the manufacturing GDP.
Food industry was valued at $ 39.71 billion in 2013.
With a growth rate of 11 percent, food industry is expected to be valued at $ 65.4 billion by 2018.
Conditions that favor Food Processing Industry in India
25 billion population = large consumer base.
Agricultural economy with readily available and cheap raw materials.
Ready availability of both skilled and unskilled work force.
High growth potential because of untapped resources at every stage.
The sector is not yet fully liberalized. The market is still wide open for new players.
Can easily attract investments as the industry is still in nascent stage.
How will Food Processing Industry Benefit the economy
Greater value addition to farm produce.
Boosting income of farmers.
Reduce wastage of perishables.
Control inflation and price volatility
Generating more employment (Mega food parks).
Advanced technologies that foreign investors would bring.
FPI will encourage contract farming
What are the challenges faced by FPI?
Indifference of policy makers as very little outlays are allocated in Five Year Plans. In the XI FYP, an outlay of Rs. 4000 crore was earmarked out of which significant proportion was not spent
The legislation's like APMC Acts, Essential Commodities Act, etc restricts free movement of commodities
Very poor infrastructure i.e. near absence of technologies, incubation facilities, pre-cooling chambers, irradiation facilities, etc < Food Irradiation is a technology that improves the safety and extends the shelf life of foods by reducing or eliminating microorganisms and insects>
High tariffs in the form of high excise duties as well as import duties
Non-tariff barriers in the form of stringest regulation of laboratory testing, grading, sampling and packaging
Lack of entrepreneurship, as 70% of the total value of food processing items manufactured in India is dominated by the unorganised sector
Lack of training facilities related to this industry
Very low Research & Development
Indian agriculture focuses on traditional crops rather than market-oriented agriculure with diversified commercial crops
Measures taken by the Government to propel Food Processing Industry
India is the largest producer of milk and second largest producer of a variety of fruits and vegetables in the world.
India's farm output is second worldwide.
However, food is being wasted at the harvest point and during transportation.
The wastage levels in perishables is significantly high.
Government is keen to bring in advanced technology into the supply chain thereby combating the losses incurred during the value chain.
FDI Policy Reform
100 % FDI permitted through government approval route for trading, including through eCommerce, of Food Products produced and/or manufactured in India.
Promoting FDI inflows
$1 billion of FDI inflows into the country from April 2014 to March 2016.
Capacity Augmentation
32 Lac MT capacity of cold storage has been created within the last two years.
Boost to Infrastructure development
Over the last two years,
51 cold chain projects have been completed;
6 Mega Food Parks operationalized;
4 abattoirs (slaughterhouse) have been operationalized;
11 Quality Testing Food Labs commissioned and 8 upgraded; and
Infrastructure status has been granted to Food Parks.
Credit Support
2000 crore special fund created in NABARD for Mega and Designated Food Parks
Priority Sector Lending subject to aggregate sanctioned limit of INR 100 crores per borrower, more credit support is available to investors.
Fiscal benefits to encourage investment
100 % Income tax exemption to food processing units on profits for the first five years of operation.
Reduction of Excise Duty on refrigerated containers from 12.5% to 6%.
Reduction of Basic Customs Duty from 10% to 5%.
Service tax exempted on pre-conditioning, precooling, ripening, waxing and retail packing, labelling of fruits and vegetables.
Service tax exemption for transportation of food grains including rice and pulses, flours, milk and salt by rail, vessels or road
Skill Development
Food Industry Capacity & Skill Initiatives (FICSI), the sector skill council for Food Processing Industry, has trained 28k persons till date.
Ease of Doing Business Initiatives
To facilitate imports and exports, Single Window Customs Clearance has been implemented whereby 6 Partner Government Agencies have been integrated allowing seamless exchange of information.
Department of Plant Protection Quarantine and Storage (DPPQ&S),
Food Safety Standards Authority of India (FSSAI),
Drug Controller (CDSCO),
Animal Quarantine (AQCS),
Wild Life Crime Control Bureau (WCCB) and
Textile Committee
A Single Window Facilitation Cell for addressing queries is being setup.
A Committee of Independent Monitors to hear grievances of investors/promoters and make recommendations for redressal of grievances is also setup.
A Food Map identifying surplus and deficit areas of various agricultural produce has been developed and made available on the Ministry's website. This will aid investors in identifying availability of raw materials in various regions.
New foreign and domestic investments in FPI
Foreign Investors
Linde Group has invested USD 200 million in seafood segment in Andhra Pradesh.
Mondelez International, the US-based food, and beverage major, has setup its manufacturing plant in Andhra Pradesh.
Mars International India Pvt. Ltd, one of the world's leading chocolate manufacturers, has invested USD 114.63 million in Chocolate manufacturing plant in Pune.
Domestic Investors
Patanjali Ayurveda Ltd wants to setup Rs. 500 crore food processing unit at Dhar district in Madhya Pradesh.
Balaji Wafers, based in Rajkot, Gujarat, in building a manufacturing plant for wafers and snacks in Indore, MP.
Jain Irrigation Systems is setting up a Food Park in Andhra Pradesh.
Jain Irrigation Systems is also setting up an orange processing point in Warud, Amravati district of Maharashtra.
Mega Food Parks
The Government's Scheme for Infrastructure Development provides State-of-the-Art infrastructure for Mega Food Parks.
The scheme has a provision of Grants-in-aid @50% of the eligible project cost in general areas and @75 % in difficult areas subject to a maximum of Rs. 50 crore.
Government has sanctioned 42 Mega Food Parks out of which 8 have been operationalized.
Each mega food park is expected to create direct & indirect employment to about 5,000-6,000 persons and benefit approx. 25,000-30,000 farmers.
Major segments of food processing
Fruits and Vegetables.
Milk and Milk Products.
Meat and Poultry.
Marine Products.
Grain Processing.
Consumer Food.
Upstream and Downstream requirements of food processing industries:
Upstream stage: The upstream stage of the production process involves searching for and extracting raw materials. The upstream part of the production process does not do anything with the material itself, such as processing the material. This part of the process simply finds and extracts the raw material. Thus, any industry that relies on the extraction of raw materials commonly has an upstream stage in its production process.
Downstream stage: The downstream stage in the production process involves processing the materials collected during the upstream stage into a finished product. The downstream stage further includes the actual sale of that product to other businesses, governments or private individuals. Downstream process has direct contact with customers through the finished product.
Upstream requirements:
Accessibility to raw materials.
Modern extraction techniques.
Good linkages with farmers.
Storage facilities for raw materials like Grains, Meat, Fish etc.
Quality testing facilities.
Transport facilities.
Work force.
Downstream requirements:
Latest processing techniques.
Latest processing machinery.
Quality testing facilities.
Organized retail stores for faster distribution.
Work force.
Boards and Institutions
NIFTEM – National Institute of Food Technology and Entrepreneurial Management.
IGPB – Indian Grape Processing Board.
IICPT – Indian Insitute of Crop Processing Technology.
NMPPB – National Meat and Poultry Processing Board.
Revolutions related to Food Production and Food Processing
Pink Revolution – Meat and Poultry Production.
Red Revolution – Meat & Tomato Production.
Round Revolution – Potato Revolution.
Silver Fiber Revolution – Cotton Revolution.
Silver Revolution – Egg/Poultry Production.
White Revolution – Milk/Dairy production (Operation Flood).
Yellow Revolution – Oil Seeds production.
Evergreen Revolution – Overall development of Agriculture.
Blue Revolution – Fish Production.
Brown Revolution – Leather /Cocoa production.
Golden Fibre Revolution – Jute Production.
Golden Revolution – Overall Horticulture development/Honey Production.
Green Revolution – Agriculture in general.
Pradhan Mantri Kisan Sampada Yojana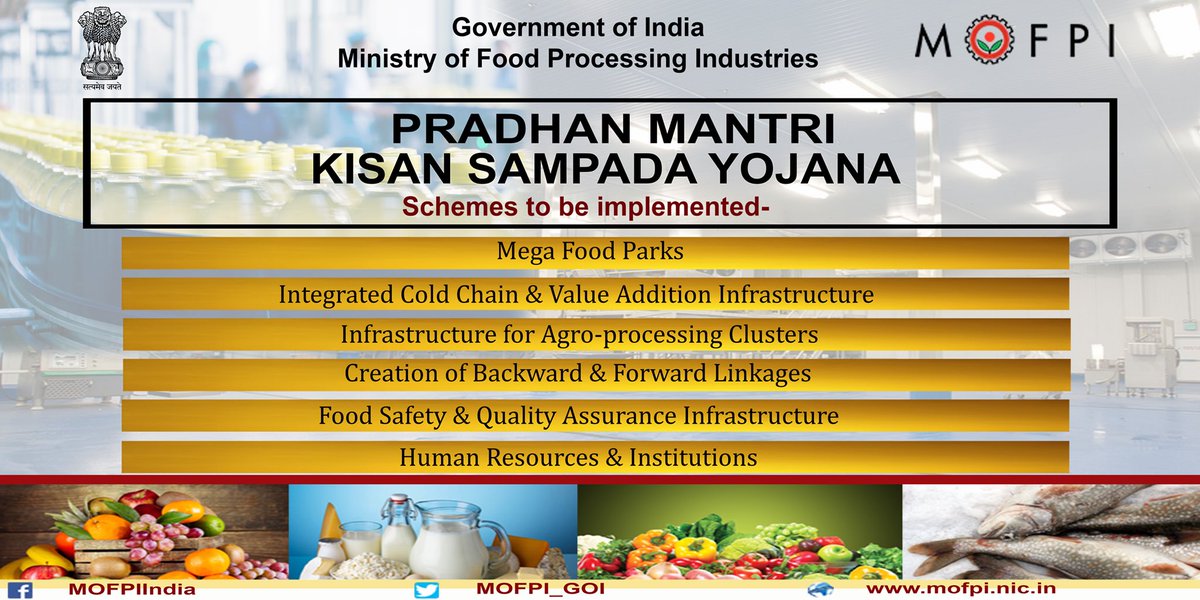 The Central Sector Scheme – SAMPADA (Scheme for Agro-Marine Processing and Development of Agro-Processing Clusters) was approved by the cabinet in May 2017 for the period of 2016-20 coterminous with the 14th Finance Commission cycle. The scheme has now been renamed as the "Pradhan Mantri Kisan Sampada Yojana (PMKSY)".
It is an umbrella scheme incorporating ongoing schemes of the Ministry like Mega Food Parks, Integrated Cold Chain and Value Addition Infrastructure, Food Safety and Quality Assurance Infrastructure, etc. and also new schemes like Infrastructure for Agro-processing Clusters, Creation of Backward and Forward Linkages, Creation / Expansion of Food Processing & Preservation Capacities.
Impact
The implementation of PMKSY will result in creation of modern infrastructure with efficient supply chain management from farm gate to retail outlet.
It will provide a big boost to the growth of food processing sector in the country.
It will help in providing better prices to farmers and is a big step towards doubling of farmers' income.
It will create huge employment opportunities especially in the rural areas.
It will also help in reducing wastage of agricultural produce, increasing the processing level, availability of safe and convenient processed foods at affordable price to consumers and enhancing the export of the processed foods.
Thank you!