1. Minimising maternal mortality ratio, C-Section in State
In a week's time, 30 nurses trained in midwifery would be posted in 12 government healthcare facilities that have recorded a high number of deliveries. The move is expected to bring down C-Section deliveries and maternal mortality rate (MMR) in the State.
MMR data:
According to the Sample Registration System's special bulletin on 'Maternal Mortality in India 2014-16', MMR across India was 130 per 1,00,000 live births.
It is 81 per 1,00,000 live births in Telangana, the fifth lowest State.
The lowest MMR of 46 was recorded in Kerala, followed by 61 in Maharashtra.
Details:
On the occasion of International Day of the Midwife, 30 nurses who completed 18-month Midwifery Nurse Practitioner Diploma Course were presented with certificates by Health Minister.
The course was funded by the Central government through the National Health Mission (NHM), and implemented by the government of Telangana in collaboration with Fernandez Hospitals and the United Nations Children's Fund (UNICEF).
It is claimed that Telangana is the first State to have certified midwives.
Significance:
According to World Health Organisation's (WHO) 'Global Strategic Directions for Strengthening Nursing and Midwifery 2016-2020', there is demonstrable evidence substantiating the contribution of the nursing and midwifery workforce to health improvements, such as increased patient satisfaction, decrease in patient morbidity and mortality, stabilisation of financial systems through decreased hospital readmissions, length of stay, and other hospital-related conditions, including hospital-acquired infections, which consequently contributes to patient well-being and safety.
How did Telangana bring down its MMR through sustained campaign?
The infrastructure which was implemented, largely focused on making healthcare accessible to all women and also incentivized institutional deliveries which helped attract more women to institutional deliveries.
The government undertook the gargantuan task of improving public health care facilities, starting with the Public Health Centres (PHCs).
The state implemented a 24-hour call centre as part of a government initiative.
The PHCs worked with Accredited Social Health Activists (ASHAs) and collected the expected delivery dates of women in a particular locality and passed it on through the call centres.
The call centres were set up in conjecture with the government's 'Amma Vodi' (Mother's Lap) programme.
Under 'Amma Vodi' a few initiatives were taken to ensure that pregnant women were getting regular antenatal check-ups as well as institutional deliveries.
The call centres helped authorities to keep track of pregnant women and were able to make sure that they were getting regular check-ups.
The government also introduced the 102 number for women who required transport to and from their check-ups.
Institutional deliveries were incentivised by providing financial incentives. Women are given  Rs 13,000 for girl children and Rs 12,000 for boys which are given in installments.
Conclusion:
According to data released by the Sample Registration System (SRS), Telangana state went from an MMR of 92 in the 2011 to 2013 period to a rate of 81 between 2014 and 2016. The effort of the state government to reduce its MMR has resulted in the entire nation's MMR reducing to 130 from 167. In fact, Telangana is now close to the 70 mark, the Sustainable Development Goal (SDG) set for the country.
2. No guarantee that bank privatisation will be a panacea
The banking system is overburdened with non-performing loans. Much of the problem lies in public sector banks, but private sector banks like ICICI and Axis Bank have not been immune. Some of the malaise comes from a general need to improve governance, transparency and incentives in the system.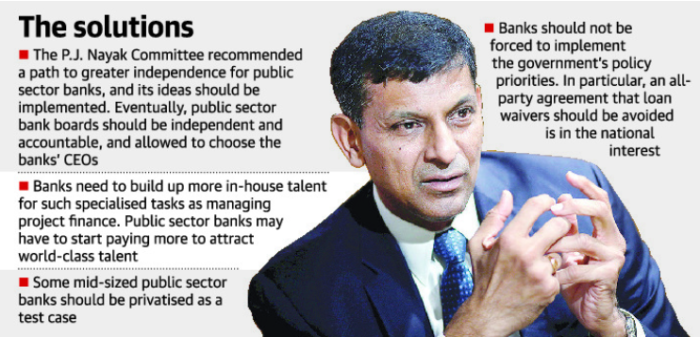 Details:
The difficulties in even some private banks suggest that 'simple' solutions like privatising all public sector banks may be no panacea.
At any rate, banking reforms should tackle four broad areas:
Clean up banks by reviving projects that can be revived after restructuring debt.
Improve governance and management at public sector banks.
De-risk banking by encouraging risk transfers to non-banks and the market.
Reduce the number and weight of government mandates for public sector banks, and for banks more generally.
Privatise or not?
Certainly, if public sector banks are freed from some of the constraints they operate under (such as paying above the private sector for low-skilled jobs and paying below the private sector for senior management positions, having to respond to government diktats on strategy or mandates, or operating under the threat of CVC/CBI scrutiny), they might perform far better.
However, such freedom typically requires distance from the government. So long as they are majority-owned by the government, they may not get that distance.
At the same time, there is no guarantee that privatisation will be a panacea.
Some private banks have been poorly governed. Instead, it has to be recognised that ownership is just one contributor to governance, and look at pragmatic ways to improve governance across the board.
There certainly is a case to experiment by privatising one or two mid-sized public sector banks and reducing the government stake below 50% for a couple of others, while working on governance reforms for the rest.
Some political compromises will be needed to allow the process to go through, but so long as the newly privatised banks are not totally hamstrung in their operational flexibility as a result of these compromises, this will be an experiment worth undertaking.
An alternative proposal to improve governance is to merge poorly managed banks with good banks. It is uncertain whether this will improve collective performance.
When combined with differences in management capabilities, much will depend on whether the good bank's management is strong enough to impose its will without alienating the employees of the poorly managed bank.
There are two experiments under way: State Bank has taken over its regional affiliates, and Bank of Baroda, Vijaya Bank and Dena Bank have been merged. The performance of the latter merger will be more informative. Thus far, market responses suggest scepticism that it will play out well.
De-risk banking by encouraging risk transfers to non-banks and the market
Too many risks devolve on to banks, including risks such as that of interest rate volatility that banks elsewhere typically lay off in markets.
Too much project risk stays with banks because other financial instruments such as equity and subordinate debt cannot be issued cheaply.
Risk also returns through the back door.
For example, banks do not make loans to housing developers because of their intrinsic risks.
But they do make loans to non-bank financial companies, which make loans to developers. To prevent risk from returning to bank balance sheets, NBFCs must be able to raise money directly from markets.
Banks will have to complement financial markets rather than see them as competition. The use of financial technology will be especially helpful to them in this endeavour.
Reduce the number and weight of government mandates for PSBs:
Uncompensated government mandates have been imposed on public sector banks for a long time. This is lazy government – if an action is worth doing, it should be paid for out of budgetary resources.
Mandates also are against the interests of minority shareholders in public sector banks.
Finally, it does not draw the private sector in to compete for such activities. The government should incentivise all banks to take up activities it thinks desirable, not impose it on a few – especially as the privileges associated with a banking licence diminish.
Along these lines, requirements that banks mandatorily invest in government bonds (the SLR requirement) should continue to be reduced, substituting them instead with the liquidity coverage ratios and net stable funding ratios set by Basel.
Among the more dangerous mandates are lending targets and compulsory loan waivers.
Government-imposed credit targets are often achieved by abandoning appropriate due diligence, creating the environment for future NPAs.
Loan waivers, as the RBI has repeatedly argued, vitiate the credit culture and stress the budgets of the waiving state or Central government. They are poorly targeted, and eventually reduce the flow of credit.
Agriculture needs serious attention, but not through loan waivers. An all-party agreement to this effect would be in the nation's interest.
Finally, the government should keep its banks well capitalised, conditional on improvements in governance and management efficiency. This is simply good accounting practice, for it prevents the government from building up contingent liabilities on bank balance sheets that a future government will have to pay for.
3.  Anantapur villages welcome winged visitors
For six months in a year, the Veerapuram and Venkatapuram villages of Anantapur district turn home to beautiful Painted Storks who fly here from far-off places for their breeding season.
Painted Storks:
Painted storks – large birds, along with Black, White and Grey Ibis, migrate from southeast Asia to the Indian subcontinent in November-December, and occupy almost every tree in the area.
The birds are distinct due to their colourful plumage and slightly bent yellow beaks with long legs that differentiate them other birds.
It is found in the wetlands of the plains of tropical Asia south of the Himalayas in the Indian Subcontinent and extending into Southeast Asia.
They nest colonially in trees, often along with other waterbirds.
IUCN Conservation status: Near Threatened
Issue:
The number of migratory birds is on the decline, as availability of water and fish has become scarce.
Though the village is known to be a destination for these migratory birds for over 100 years, it was only in 1982 that the Forest Department formally identified it for protection.
No tangible efforts to protect the birds have been taken so far. Tourists and photographers too make a beeline here on the weekends as the place is close to the famous stone-carved Nandi of Lepakshi.
Uric acid found in the droppings of these birds is causing damage to trees, with many people not taking any interest in planting new ones.
Proposals:
Only the tamarind tree seems to be able to withstand the effects of the acidic droppings.
District Forest Officer told  that the department had sent a ₹80 lakh proposal to the State Government to plant two-meter tall trees around the dry tank, desilt it and begin a veterinary care service.
Several small tanks recently developed in the 3-4 km range from Veerapuram have received good rain and the Fisheries Department had released small fish seedlings.
There is a proposal to build some huts/guest houses around this place for the tourists and the District Collector was looking for a proper place to acquire land for the Tourism Department to develop the facility.
A bird rehabilitation centre and an Awareness Creation Centre was proposed while a 30 m x 20 m water tank with a depth of 3 m has been built by the Forest Department close to Veerapuram tank.
4. Surviving Fani: on Odisha government's preparedness
Cyclone Fani has left a trail of destruction across a large part of coastal Odisha, but its management has emerged as a global example of how timely weather alerts, preparedness and informed public participation can dramatically reduce loss of life.
Change from Past cyclones – The toll from the extremely severe cyclonic storm on May 3 stood, at last count, at 34 deaths. In terms of material losses, several districts were battered, houses flattened and electricity and telecommunications infrastructure destroyed, but the relatively low mortality shows a dramatic transformation from the loss of over 10,000 lives in 1999 when super cyclone 05B struck.
Preparedness during Fani
Odisha then worked to upgrade its preparedness, which was tested when very severe cyclonic storm Phailin struck in 2013.
It was able to bring down the number of deaths to 44 then, in spite of a wide arc of destruction: 13 million people were hit and half a million houses destroyed.
Pathway for future
Rebuilding infrastructure – The Odisha government and the Centre now have the task of rebuilding infrastructure.
Upgradation – They should use the opportunity to upgrade technology, achieve cost efficiencies and build resilience to extreme weather, all of which can minimise future losses.
Global Environment Funding – Given the vulnerability of Odisha and Andhra Pradesh to cyclones, the frequency and intensity of which may be influenced by a changing climate, the Centre should press for global environmental funding under the UN framework to help in the rebuilding.
Both States have received funding from the World Bank in cyclone risk mitigation efforts since 2011.
Steps to be taken to restore normalcy in Odisha
Restoring Electricity and telecommunications – The priority in Odisha is to restore electricity and telecommunications, which will require massive manpower.
Health Interventions – This should be treated as a national mission. Public health interventions are paramount to avoid disease outbreaks.
Other measures – The State government has been able to restore some physical movement by opening up highways and district roads; the Centre has relieved tension among students by postponing the National Eligibility-cum-Entrance Test in Odisha.
Overall Preparedness for disasters
Building resilience – Looking ahead, India must prepare for many more intense and frequent cyclones along the coastal States. Preparedness has to focus on building resilience and strengthening adaptation.
Measures-
This can be achieved through better-designed houses and cyclone shelters, good early warning systems, periodic drills and financial risk reduction through insurance.
Early weather warnings-
Early weather warnings hold the key to better management, and during the Fani episode the India Meteorological Department played a crucial role. Its commendable performance has been recognised by the UN as well.
Conclusion
Odisha's experience, which coincides with similar devastation along east Africa this year, will be keenly followed at the UN Disaster Risk Reduction conference convening on May 13 in Geneva.
5. Why is northeast India drying up rapidly?
Northeast India, one of the wettest places on the Earth has been experiencing rapid drying, especially in the last 30 years.
Some places which used to get as high as 3,000 mm of rain during the monsoon season have seen a drop of about 25-30%.
This decreasing monsoon rainfall is associated with natural changes in the subtropical Pacific Ocean.
The team used observed rainfall and sea surface temperature data for the period 1901-2014 for the study.
The results show out that the reduction in rainfall during a major part of the last 114 years may be associated with global man-made factors, while the trend during the last 36 years is associated with natural phenomena.
Only about 7% of the rainfall in this region is associated with local moisture recycling, which means that anthropogenic activities can affect only this small percentage.
So the rapid drying is a part of inter-decadal variability of monsoonal rainfall which is strongly associated with the PDO.
Pacific decadal oscillation (PDO)
PDO is a long-lived El Niño-like pattern of Pacific climate variability.
Both PDO and ENSO have similar spatial climate fingerprints yet the major difference is that PDO persists for 20-30 years while the typical ENSO persists for 6 to 18 months.
The PDO, like ENSO, consists of a warm and cool phase which alters upper level atmospheric winds.
During a "warm", or "positive", phase, the west Pacific becomes cooler and part of the eastern ocean warms; during a "cool" or "negative" phase, the opposite pattern occurs.
Shifts in the PDO phase can intensify or diminish the impacts of ENSO according to its phase.
If both ENSO and the PDO are in the same phase, it is believed that El Niño/La Nina impacts may be magnified.
This in turn affects the northeast Indian summer monsoon during its negative phase.
Conversely, if ENSO and the PDO are out of phase, it has been proposed that they may offset one another, preventing "true" ENSO impacts from occurring.
Thank you!