1. West Nile fever cases in Kozhikode go unnoticed?
West Nile Fever:
West Nile Virus (WNV) is a member of the flavivirus genus and belongs to the Japanese encephalitis antigenic complex of the family Flaviviridae.
West Nile virus can cause a fatal neurological disease in humans. However, approximately 80% of people who are infected will not show any symptoms.
It is mainly transmitted to people through the bites of infected mosquitoes.
The virus can cause severe disease and death in horses.
Vaccines are available for use in horses but not yet available for people.
Birds are the natural hosts of West Nile virus.
West Nile Virus (WNV) can cause neurological disease and death in people.
It is commonly found in Africa, Europe, the Middle East, North America and West Asia.
WNV is maintained in nature in a cycle involving transmission between birds and mosquitoes. Humans, horses and other mammals can be infected.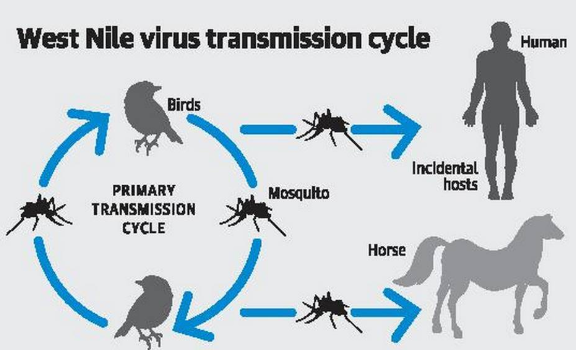 Details:
The Health Department is clueless about the source of the West Nile infection in Malappuram as the samples of dead crows and mosquitoes collected from the premises turned negative.
There could have been more unreported cases of the disease as 80% of the infected people do not show any symptoms, according to the World Health Organization (WHO).
Human infection is most often the result of bites from infected mosquitoes of the Culex genus.
Steps taken:
Mosquito eradication works have been taken up in areas from where these cases were reported.
Steps are also taken to create awareness among local residents.
The department had formed a drastic response team and devised a treatment protocol after over 60 encephalitis cases were reported from Malappuram.
Conclusion:
Viruses are known to adapt for both greater virulence and more efficient transmission.
It is important to note that urbanisation and land-use changes are bringing the virus's zoonotic hosts, such as birds, in more frequent contact with humans.
Given increased mobility, viruses can hitch a ride to new regions via infected humans and vectors. All this makes the WNV a formidable foe.
India's best defence is better surveillance, which will help doctors reach patients early to prevent complications.
Kerala could not prevent the death in Malappuram, but other States should adopt its model of heightened surveillance.
Analysis:
Experts opine that when Joko Widodo, or Jokowi as he is popularly known, was elected President of Indonesia in 2014, it was a moment pregnant with new beginnings for the region.
As a matter of fact, democracies in Asia have usually been afflicted by the same inglorious cast of characters. These include:
dynastic heirs,
military strongmen,
corporate tycoons and
religious hardliners
Contrary to this, Widodo's victory indicated the possibility of renewal via the democratic process even in a large, developing, Muslim-majority country.
As a matter of fact, he came across as a novel breed of leader: middle-class and humble, with a pluralistic outlook and commitment to clean government.
Islam, a mainstream force:
In 2019, Mr. Widodo is back at the helm of Indonesia, having once again beaten back his rival, Prabowo Subianto, a former military general dogged by accusations of human rights abuses.
However, this time the political prognosis is more sobering.
Widodo's years in power have witnessed a shift in the role that political Islam plays in the public life of the world's third largest democracy, from a relatively marginal factor to a mainstream force that no political party can ignore.
Experts opine that the President of Indonesia has proved no exception. The President has demonstrated a willingness to bend to religious considerations, even when they run contrary to his inclinations.
As a matter of fact, during the long campaign season, both candidates tried to outdo each other in brandishing their Muslim credentials, despite the fact that neither is traditionally pious.
The vow to support religious clerics became a central plank of Mr. Prabowo's campaign.
His supporters are known to have carried out fake news campaigns portraying Mr. Widodo as a Christian or an atheist Communist, and at times even a logic-defying both.
Mr. Widodo's track record in office:
Widodo's track record in office when it comes to pandering to Islamists has been chequered.
He has taken on some religious extremists, banning the Hizb ut-Tahrir, a radical group that aimed to establish a global caliphate.
He also walked back a decision to allow Abu Bakar Bashir, spiritual leader of the terrorist organisation Jemaah Islamiyah to walk free from prison on humanitarian grounds.
However, the latter decision was only taken following a huge international outcry.
Experts opine that the President's greatest failure was his silence during the movement to charge his former deputy, Basuki Tjahaja Purnama, with blasphemy.
On the economic front, Mr. Widodo's first term as President was adequate, if unspectacular.
Annual growth averaged 5%, well below the 7% target, in part because he caved in to pressure and backtracked on difficult reforms like reining in fuel subsidies.
On the plus side, he lined up more than $300 billion of infrastructure projects, including the opening of Jakarta's first subway line after 34 years of planning.
He also rolled out a popular national health-insurance scheme and pumped money into education.
What lies ahead:
Going forward, Mr. Widodo has his work cut out trying to get increased foreign investment amid a climate of economic nationalism.
It also remains to be seen if, and how, he decides to tackle the thorny issue of restrictive labour laws.
A final challenge will entail finessing Indonesia's response to China's growing economic clout in the archipelago.
It is important to note that China has emerged as a major foreign investor in Indonesia, but there are worries about the consequences.
A recurrent theme of the Prabowo campaign was the claim that under Mr. Widodo, Chinese goods and workers had flooded the nation.
However, it is protecting minority rights that will remain Mr. Widodo's greatest and most fraught test.
A land of remarkable diversity:
Forging a unified national identity out of its fractured ethnic and religious demography has been a remarkable achievement for Indonesia.
Seven out of eight Indonesians self-identify as Muslims; more Muslims live in Indonesia than in any other country. And yet the state also recognises five other religions: Hinduism, Buddhism, Protestantism, Catholicism and Confucianism.
The archipelago is home to 719 languages, spoken by people from over 360 ethnic groups.
Given term limits, this will be Mr. Widodo's final stint as President.
The optimistic scenario is one where he is able to slough off electoral considerations and finally tackle the liberal reforms and policies many still assume are close to his heart.
However, taking his record into consideration, it seems more probable that he will continue to co-opt his opponents rather than confront them.
He has emerged as a tinkerer and incrementalist, rather than a visionary.
To an extent, this is both necessary and even advantageous in a political landscape characterised by coalitions and consensus-building.
Widodo leads a 10-party alliance and needs to garner support from a polarised Parliament. However, there is a fine line between pragmatism and opportunism, and the jury is out on which side of this line he will eventually come down.
Widodo has one more chance to go down in the history books as a great President.
Even as two member-states (India and South Africa) of the IBSA Dialogue Forum have been busy with national elections and the third (Brazil) is settling down after its recent presidential elections, their foreign policy mandarins met in Kochi, May 3-5, 2019.
The central goal was to develop a blueprint to rejuvenate IBSA, widely viewed as a unique voice for the Global South.
An important question arises: Will this endeavour succeed?
A Look into Specifics:
First, some candour and recall are needed to trace the past trajectory.
The idea of creating a grouping composed of major democracies of three continents, Asia, Africa and South America, emerged from the disarray at the end of the 20th century, and the perceived need for developing countries to forge decisive leadership.
IBSA was launched through the Brasilia Declaration in 2003. Its summits, between 2006 and 2011, gave it a special global profile.
However, 2011 onwards, BRICS, the larger group comprising IBSA countries, China and Russia, started to overshadow IBSA.
IBSA has been unable, until now, to hold its sixth summit. Nevertheless, a series of events marking its 15th anniversary, held during 2018-19, have imparted new momentum to the endeavour to revitalise IBSA.
Throughout the period of its marginalisation by BRICS, a strong body of officials and experts in the three countries has held the view that IBSA is the true inheritor of solidarity among developing countries, which was nurtured from the Bandung Conference (1955) through UNCTAD and G-77 to the BAPA+40 Declaration (2018).
It is the champion of South-South Cooperation, and the advocate of a coordinated response by developing economies to secure the Sustainable Development Goals (SDGs). The glue that binds IBSA countries together is their faith in democracy, diversity, plurality, inclusivity, human rights and rule of law. This was reiterated through the IBSA Declaration on South-South Cooperation, issued in Pretoria in June 2018.
Notably IBSA remains determined to "step up advocacy for reforms of global governance institutions in multilateral fora". In particular, it is strongly committed to the expansion of the UN Security Council.
As Foreign Minister Sushma Swaraj put it, "We three have to ensure that our collective voice is heard clearly in BRICS and other groups on UN Security Council reforms, since if we do not speak for our own interests, no one else will."
Parleys in Kochi:
Against this backdrop, IBSA Sherpas and senior officials of the three countries held detailed deliberations on all aspects of the grouping.
The IBSA Academic Forum, comprising independent experts, held its sixth session in Kochi after a hiatus of over seven years.
This forum hosted a candid and comprehensive exchange of views on the continuing relevance of IBSA; the need for a strategy to secure SDGs and cement South-South Cooperation; expanding trade cooperation; and the shared goal of enhancing academic collaboration on issues relating directly to the needs of democratic societies.
In fact, IBSA has been notching up a number of quiet successes. First, the three Foreign Ministers have been meeting regularly to provide a coordinated leadership to the grouping.
The last meeting of the Trilateral Ministerial Commission took place in New York in September 2018.
Secondly, while the India, Brazil and South Africa Facility for Poverty and Hunger Alleviation (IBSA Fund) is small in monetary terms, it has succeeded in implementing 31 development projects in diverse countries: Burundi, Guinea-Bissau, State of Palestine, Cambodia and Vietnam, among others.
Next, India has been running an innovative IBSA Visiting Fellows Programme through the Delhi-based think tank, RIS or Research and Information System for Developing Countries.
A strong case exists for expanding its reach. Experts opine that both South Africa and Brazil should initiate their own editions of this programme, as an investment in building intellectual capital.
Concluding Remarks:
It is important to note that the idea of IBSA remains valid. The grouping has its tasks cut out.
The special responsibilities it bears cannot be discharged by BRICS.
In fact, strengthening IBSA could increase the effectiveness of BRICS and encourage it to follow a more balanced approach on key issues of interest to India, Brazil and South Africa.
Hence, the current endeavours to infuse greater dynamism in IBSA are well-timed.
They would need buy-in by the government that comes to power in India.
Support by Brazil's President Jair Bolsonaro and South Africa's Cyril Ramaphosa, who has just won re-election as President, would be crucial.
An early convening of the next summit is the pressing priority.
4. Being responsive: on the Jammu & Kashmir report
Analysis:
The government's decision may appear extreme, but is in line with its reaction to such international reports over the last few years.
As a matter of fact, in a letter dated April 23, 2019, India's permanent mission to the UN in Geneva wrote to the Office of the High Commissioner for Human Rights rejecting any reference to the UN's original June 2018 report on J&K as well as Pakistan-occupied Kashmir, and refused to respond to questions about deaths of 69 civilians between 2016 and 2018 in violence in the Valley.
What did India say in its objections?
In its objections, the government of India said the report was "false and motivated", that its conclusions and recommendations were violative of India's sovereignty and territorial integrity, and accused the Special Rapporteurs preparing the report of "individual prejudices" against India.
In addition, India drew notice to the Pulwama attack this year (2019), calling terrorism the "grossest" violation of human rights, not the allegations against the security forces.
As a result, the government has decided to treat all allegations made by the UN Special Rapporteurs as a "closed chapter" and will not engage further on it.
India's objections to the OHCHR report, the first of its kind when it was released in 2018, and the follow-up this year (2019) are understandable, given the often selective nature of allegations raised by the UN body.
It is also clear that demands for action against Indian officials and amendment of laws can cross the line on Indian sovereignty. The call by the previous HCHR that the UN Human Rights Council set up an independent and international tribunal to investigate India's record in Kashmir was seen to be invasive, and could be dismissed by New Delhi as well.
However, it is important to note that the government cannot quell the troubling questions that the UN report and the Special Rapporteurs' submissions raise simply by rejecting them.
To begin with, most of the sources for the OHCHR report are official Indian authorities, State and national human rights commissions, international human rights agencies as well as reputed Indian NGOs.
This is therefore a view from within India, not some disengaged UN official, and must be taken very seriously.
Further, two Kashmiri NGOs also released a report recently, documenting 432 specific cases of alleged brutality by security forces in Kashmir, including electrocution, 'water-boarding' and sexual torture of civilians, of which only about 27 were taken up by the State Human Rights Commission.
Concluding Remarks:
The government must press for due process and justice in each of these.
Experts opine that eventually, India will be judged not only by how close it stands to the world's most powerful countries, but how much the state extends itself to the most vulnerable within its own boundaries.
5. The aftermath of a nasty election
Analysis:
Some experts have opined that the devastation caused by a vicious electoral campaign for the 17th Lok Sabha has cast a troublesome shadow on India's future.
Citizens who have witnessed 10 or more elections in free India would readily agree that electoral politics has never sunk so low in the past as it has now.
Truth and national interest were victims while destruction of the political enemy became the sole purpose of fighting the election. Yet there is one very bright side that needs celebration.
The redeeming feature of the election process:
The redeeming feature has been the integrity of the election process and the mechanics of registering the choice of the voter.
While the overall electoral turnout in this general election has been put at a tentative 67.11%, making it a historic one, there have been no proven instances of booth capture.
Most importantly, there has been no credible evidence of any material failure of electronic voting machine (EVM) technology. However, this is evaluating democracy against a low bar.
While the body of democracy might still be reasonably healthy, what must trouble every citizen is the deep corruption of the soul of democracy.
A look at some of the fissures:
What is the damage done to the future of India?
Firstly, the credibility and effectiveness of Parliament, the very institution that we have so painstakingly sent our representatives to, is set to experience a further erosion.
Further, the culture of aggressive disruption by the Opposition might get chronic, given that there has been no evidence that political parties will place the nation ahead of their political interests.
Parliament can discharge its responsibility of law-making, only if parliamentarians rise above partisan interests.
Secondly, while Indian foreign policy has remained somewhat underwhelming and defensive (with the exception of the liberation of Bangladesh, and the Balakot attack), the growing nexus between a rogue neighbour and an ascendant superpower in the region has highlighted the radical need for an assertive policy within the framework of non-aggrandisement.
This requires a risk-taking ability within a narrow space for manoeuvrability.
It needs the government and the Opposition to stand as one.
However, the behaviour of both national parties does little to inspire confidence in this direction.
An economic script:
Thirdly, by all indications, the Indian economy will face strong headwinds.
Consumption-led demand is slowing down and the rural economy continues to be in distress.
Further, the 'twin balance sheet' problem is constraining new investments while the banking sector is in disarray.
Yet, India can achieve at least a high single-digit growth.
This will, however, depend on the government executing the next round of reforms in land and labour markets, further pruning unproductive subsidies, devising policies to attract foreign and private investments in infrastructure, and incentivising business to produce and service the world.
Experts opine that the new government will have to sell to the public the necessity for some short-term pain for long-term gain.
As a matter of fact, it will have to take bold financial decisions while being accountable and transparent.
Election rhetoric and pre-election actions instead focussed on the opposite: doles, which are short-term gains; non-transparency in and witch hunting of procurement deals; and a systematic alienation of private enterprise.
This is not the canvas on which a bold turnaround plan for the economy can be scripted.
Fourthly, the nation has not only been sharply polarised but the elections have pushed it to react emotionally rather than rationally.
As a matter of fact, social media has unleashed raw emotions. In election season, every social issue has been viewed through the prism of political ideology.
The need for constructive discourse:
Despite India's glorious history of advanced thinking, realisation of our constitutional aspirations of equality and liberty has been stymied by inherited societal backwardness.
Social reforms can happen only in an atmosphere of constructive debate and dissent and a shared vision of modernity.
The discourse has to move away as much as possible from ideology to constitutional rights.
Fifth, democracy has to be anchored in the system of checks and balances among autonomous institutions, the judiciary, the defence forces and the Election Commission of India as well as an independent media and civil society.
It is important to note that despite the mutinous situation in some of these institutions and the disturbing circumstances in this election, there is no great fear that institutions have been permanently damaged.
That cannot be said of the media, especially the visual and social media. Unfortunately, the polarisation of the media on political lines and the loss of neutrality appear almost complete.
An important question arises: does this mean that we have collectively failed to safeguard our future? No, there is hope and we have to act quickly and responsibly.
The role for civil society:
The time has come for civil society to offer that hope and shoulder the responsibility for corrective action.
Participative democracy has to be kept alive through a vigilant and demanding civil society that ensures restoration of the primacy of national interests.
India has a very active and vast civil society that has several exemplars in the fields of advocacy, citizen rights, environment and philanthropy.
There is a need and space for robust and credible civil organisations that act as bridges between the elected and the electorate.
Leaders from different vocations such as business, arts and administration have to render public service through civil organisations.
Concluding Remarks:
Indifferent silence and armchair commentaries are not responsible options. Second, relevant organisations have to come together to demand a proper and orderly functioning of Parliament and State legislatures.
A worthwhile experiment would be having citizen organisations at the constituency level that act as monitors of elected representatives.
Next, industry and trade organisations must demonstrate spine and pursue a vocal agenda of advocacy based on broader national interests and beyond narrow corporate gains.
Further, India has had a long history of socially committed organisations leading societal transformation from the front. While Parliament might enact laws when it comes to closing the gap between legislative intent and social practices, much falls on the shoulders of a socially conscious citizenry. Civil society needs to rise to meet this challenge.
Next, civil society should rise in force to safeguard the integrity and independence of autonomous institutions, should they face a threat.
Thank you!