Last week, while hearing a matter relating to properties of a Goan, the Supreme Court described Goa as a "shining example" with a Uniform Civil Code, observed that the founders of the Constitution had "hoped and expected" a Uniform Civil Code for India but there has been no attempt at framing one.
What is a Uniform Civil Code?
A Uniform Civil Code is one that would provide for one law for the entire country, applicable to all religious communities in their personal matters such as marriage, divorce, inheritance, adoption etc. Article 44 of the Constitution lays down that the state shall endeavour to secure a Uniform Civil Code for the citizens throughout the territory of India.
What are more important — fundamental rights or directive principles?
There is no doubt that fundamental rights are more important. The Supreme Court held in Minerva Mills (1980): "Indian Constitution is founded on the bed-rock of the balance between Parts III (Fundamental Rights) and IV (Directive Principles). To give absolute primacy to one over the other is to disturb the harmony of the Constitution".
Article 31C inserted by the 42nd Amendment in 1976, however, lays down that if a law is made to implement any directive principle, it cannot be challenged on the ground of being violative of the fundamental rights under Articles 14 and 19.
Does India not already have a uniform code in civil matters?
Indian laws do follow a uniform code in most civil matters – Indian Contract Act, Civil Procedure Code, Sale of Goods Act, Transfer of Property Act, Partnership Act, Evidence Act etc. States, however, have made hundreds of amendments and therefore in certain matters, there is diversity even under these secular civil laws. Recently, several states refused to be governed by the uniform Motor Vehicles Act, 2019.
If the framers of the Constitution had intended to have a Uniform Civil Code, they would have given exclusive jurisdiction to Parliament in respect of personal laws, by including this subject in the Union List. But "personal laws" are mentioned in the Concurrent List. Last year, the Law Commission concluded that a Uniform Civil Code is neither feasible nor desirable.
How does the idea of a Uniform Civil Code relate to the fundamental right to religion?
Article 25 lays down an individual's fundamental right to religion; Article 26(b) upholds the right of each religious denomination or any section thereof to "manage its own affairs in matters of religion"; Article 29 defines the right to conserve distinctive culture. An individual's freedom of religion under Article 25 is subject to "public order, health, morality" and other provisions relating to fundamental rights, but a group's freedom under Article 26 has not been subjected to other fundamental rights
In the Constituent Assembly, there was division on the issue of putting Uniform Civil Code in the fundamental rights chapter. The matter was settled by a vote. By a 5:4 majority, the fundamental rights sub-committee headed by Sardar Vallabhbhai Patel held that the provision was outside the scope of fundamental rights and therefore the Uniform Civil Code was made less important than freedom of religion.
How did the debate on a common code for Hindus play out?
In June 1948, Rajendra Prasad, President of the Constituent Assembly, warned Jawaharlal Nehru that to introduce "basic changes" in personal law was to impose "progressive ideas" of a "microscopic minority" on the Hindu community as a whole. Others opposed to reforms in Hindu law included Sardar Patel, Pattabhi Sitaramayya, M A Ayyangar, M M Malaviya and Kailash Nath Katju.
When the debate on the Hindu Code Bill took place in December 1949, 23 of 28 speakers opposed it. On September 15, 1951, President Prasad threatened to use his powers of returning the Bill to Parliament or vetoing it. Ambedkar eventually had to resign. Nehru agreed to trifurcation of the Code into separate Acts and diluted several provisions.
Goa Civil Code
Goa is the only Indian state to have a UCC in the form of common family law. The Portuguese Civil Code that remains in force even today was introduced in the 19th century in Goa and wasn't replaced after its liberation.
Features-
The Uniform Civil Code in Goa is a progressive law that allows equal division of income and property between husband and wife and also between children (regardless of gender).
Every birth, marriage and death have to be compulsorily registered. For divorce, there are several provisions.
Muslims who have their marriages registered in Goa cannot practice polygamy or divorce through triple talaq.
During the course of a marriage, all the property and wealth owned or acquired by each spouse is commonly held by the couple.
Each spouse in case of divorce is entitled to half of the property and in case of death, the ownership of the property is halved for the surviving member.
The parents cannot disinherit their children entirely. At least half of their property has to be passed on to the children. This inherited property must be shared equally among the children.
However, the code has certain drawbacks and is not strictly a uniform code. For example, Hindu men have the right to bigamy under specific circumstances mentioned in Codes of Usages and Customs of Gentile Hindus of Goa (if the wife fails to deliver a child by the age of 25, or if she fails to deliver a male child by the age of 30). For other communities, the law prohibits polygamy.
Uniform Civil Code and Arguments For & Against It
Arguments in favour of the Uniform Civil Code:
It Will Integrate India- India is a country with many religions, customs and practices. A uniform civil code will help in integrating India more than it has ever been since independence. It will help in bringing every Indian, despite his caste, religion or tribe, under one national civil code of conduct.
Will Help in Reducing Vote Bank Politics- A UCC will also help in reducing vote bank politics that most political parties indulge in during every election.
Personal Laws Are a Loophole- By allowing personal laws we have constituted an alternate judicial system that still operates on thousands of years old values. A uniform civil code would change that.
Sign of a modern progressive nation- It is a sign that the nation has moved away from caste and religious politics. While our economic growth has been significant, our social growth has lagged behind. A UCC will help society move forward and take India towards its goal of becoming a truly developed nation.
It will Give More Rights to Women- Religious personal laws are misogynistic in nature and by allowing old religious rules to continue to govern the family life we are condemning all Indian women to subjugation and mistreatment. A uniform civil code will also help in improving the condition of women in India.
All Indians Should be Treated the Same- All the laws related to marriage, inheritance, family, land etc. should be equal for all Indians. UCC is the only way to ensure that all Indians are treated the same.
It Promotes Real Secularism- A uniform civil code doesn't mean that it will limit the freedom of people to follow their religion, it just means that every person will be treated the same and all citizens of India have to follow the same laws whether they are Hindus or Muslims or Christians or Sikhs.
Change has been the law of nature-A minority of people should not be allowed to pick and choose the laws they want to be administered under. These personal laws were formulated in a specific spatiotemporal context and should not stand still in a changed time and context.
Many provisions of specific personal laws are in violation of human rights.
Article 25 and Article 26 guarantee the freedom of religion and UCC is not opposed to secularism.
The codification and unification of the variegated personal laws will produce a more coherent legal system. This will reduce the existing confusion and enable easier and more efficient administration of laws by the judiciary.
Uniform Civil Code-Challenges in its Implementation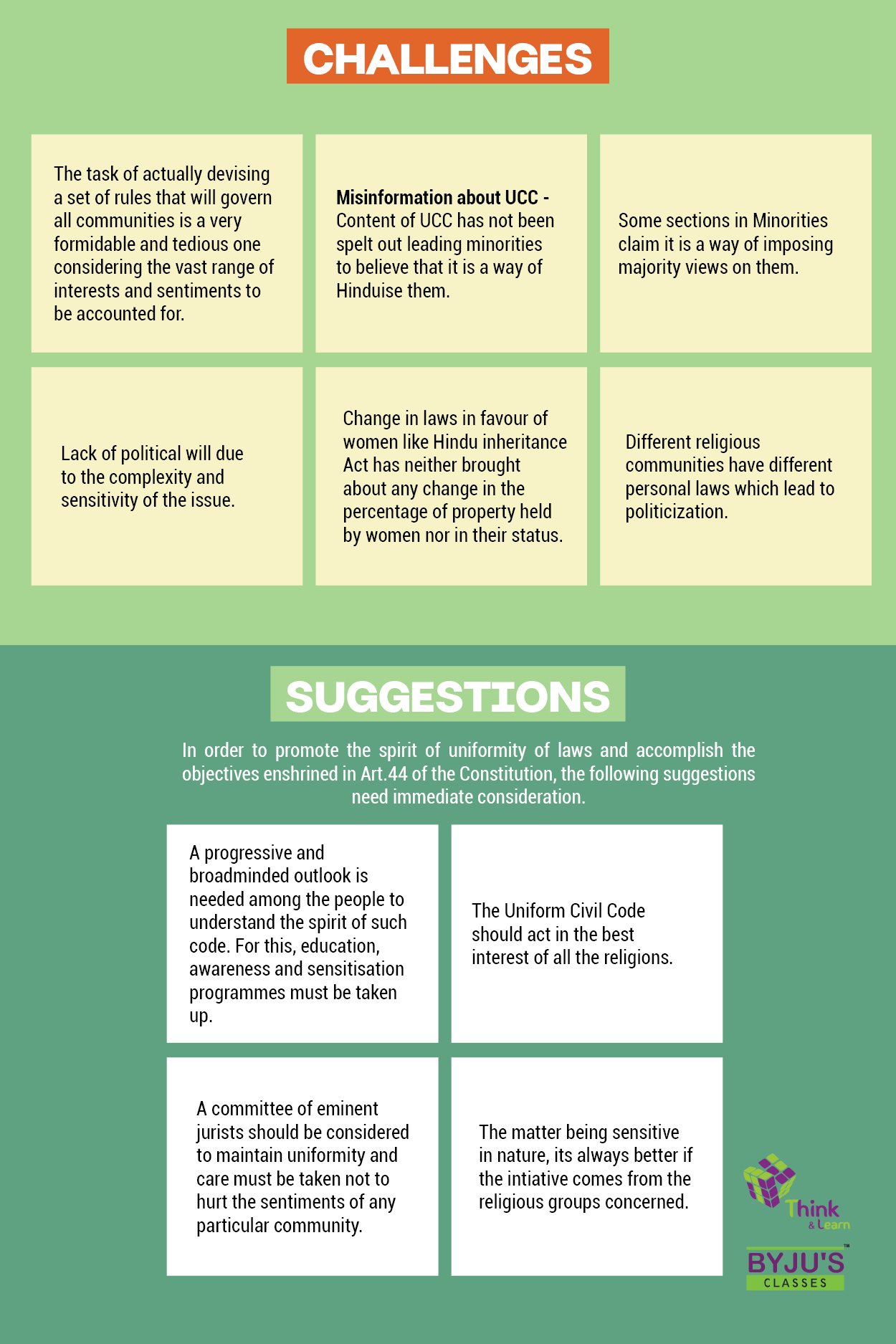 The task of actually devising a set of rules that will govern all communities is a very formidable and tedious one considering the vast range of interests and sentiments to be accounted for.
Misinformation about UCC

– Content of UCC has not been spelt out leading minorities to believe that it is a way of imposing majority views on them.
Lack of political will

due to the complexity and sensitivity of the issue.
Different religious communities

have different personal laws which lead to the politicization of the UCC debate.
Opponents of UCC argue that personal laws are derived from religious beliefs. They maintain that it is prudent not to disturb them, as this runs the risk of engendering a great deal of animosity and tension between various religious communities. Also, India being a secular country guarantees its minorities the right to follow their own religion, culture and customs under Article 29 and 30. They argue that implementing UCC will contravene these articles.
Suggestions for Implementing a Uniform Civil Code:
To realize the goals of the DPSP and to maintain the uniformity of laws, the following suggestions need immediate consideration:
A progressive and broadminded outlook should be encouraged among the people to understand the spirit of the UCC. For this, education, awareness and sensitisation programmes must be taken up.
The Uniform Civil Code should be drafted keeping in mind the best interest of all the religions.
A committee of eminent jurists should be constituted to maintain uniformity and care must be taken not to hurt the sentiments of any particular community.
The matter being sensitive in nature, it is always better if the initiative comes from the religious groups concerned.
The Way Forward for UCC: Gradual Change
India has a unique blend of codified personal laws of Hindus, Muslims, Christians, Parsis. There exists no uniform family-related law in a single statute book for all Indians which is acceptable to all religious communities who co-exist in India. However, a majority of them believe that UCC is definitely desirable and would go a long way in strengthening and consolidating the Indian nationhood. The differences of opinion are on its timing and the manner in which it should be realized.
Instead of using it as an emotive issue to gain political advantage, political and intellectual leaders should try to evolve a consensus. The question is not of minority protection, or even of national unity, it is simply one of treating each human person with dignity, something which personal laws have so far failed to do.
Practice Questions
Essay Paper-
The Need for a Uniform Civil Code in a Secular India.
General Studies Paper-II –
Discuss the possible factors that inhibit India from enacting for its citizens a uniform civil code as provided for in the directive principles of state policy.
There is no necessary connection between religion and personal laws on the one hand and civil laws and personal laws are different on the other. In this context discuss the need for a uniform civil code and the different challenges associated with this.
Source: Indian Express